Passion
We are passionate about our clients and their impact on the world. We help clients maximize their impact in more inclusive, equitable, and innovative ways.
Collaboration
We strive to be a highly collaborative team internally and with our clients and communities. We become true partners for every client.
Transparency
MA is committed to providing transparency about our practices and all findings and empathetic authenticity in all its feedback and suggestions. MA is committed to the diligence and depth of creating solutions that address the root cause.
Innovation
At MA, innovation is a mindset and approach that creates purposeful, sustainable, and equitable strategies. We incorporate the best practices, robust research, and insights from our clients, their stakeholders, and community. We don't believe in cookie-cutter solutions for any of our services.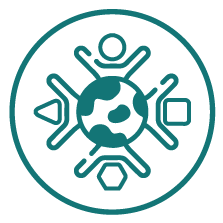 Inclusivity
We approach all stakeholders as experts in their areas, allowing all voices to be heard and reflected in the work.  This inclusivity yields sustainable solutions while our clients build, deepen, and effectively manage trusting relationships with their partners, community, and stakeholders.
Unparalleled Services
MA is with our clients at every step of the journey. MA strives to provide meticulous care, attention, and service not only to all our clients but also to their stakeholders and community. Our advisors bring deep content expertise and executive experience to provide our clients with excellence in service and an unparalleled experience.